Timetable updates September 2021:
In the event of a full national lockdown, we are generally following the timetables listed on this page however the teach part of each session is generally being pre-recorded to alleviate pressure on ICT devices in each household. Each class has a daily zoom with their teachers at the following times. All relevant codes will be emailed directly:
Daily Timetable
8:45am Year 6
9:15am Year 5
9:45am Year 1
10:15am Year 2
10:45am FS2
11:15am Year 3
11:45am Year 4
2:00pm FS1 (story time)
Dance
Live dance lessons take place on a Thursday afternoon for both KS1 and KS2 by Mrs Wells.
Thursday 1.30pm Year 1 & 2
Thursday 2.30pm Year 3 & 4
Music
Music Lessons will be also be taught live for each class.
Tuesday 1.15- 2.00pm - Year 2
Tuesday 2.15- 3.00pm - Year 1
Wednesday 1.15 - 2.00pm - Year 3
Wednesday 2.15 - 3.pm - Year 4
Thursday 1.15 - 2.00pm - Year 5
Thursday 2.15pm - Year 6
Assemblies
Every Monday 2.30 pm Whole School Assembly - Wellbeing focus
Every Tuesday 2.30 pm KS2 (Years 3-6) Reading Assembly
Every Thursday 2.30pm EYFS/KS1 (Foundation-Year2) Reading Assembly
Every Friday 2.30pm Whole School Assembly - Special Mentions
Remote Learning Timetable KS2 (Single Bubble)

Remote Learning Timetable KS1

Remote Learning Timetable EYFS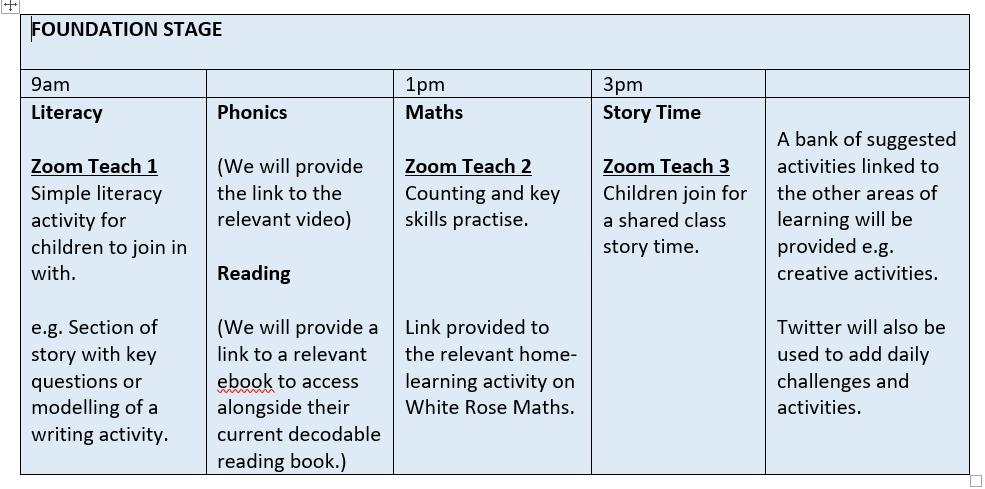 Break Times
It is really important for everyone to take regular breaks when we're working hard. This is even more important for children. We know that children and families may not be able to follow the exact timetable everyday but no matter what it is important for children to have a break from learning.
Remote learning means spending a lot of time in front of a screen so we suggest that children take the opportunity to-
Get outside for some fresh air
Get active
Have a snack